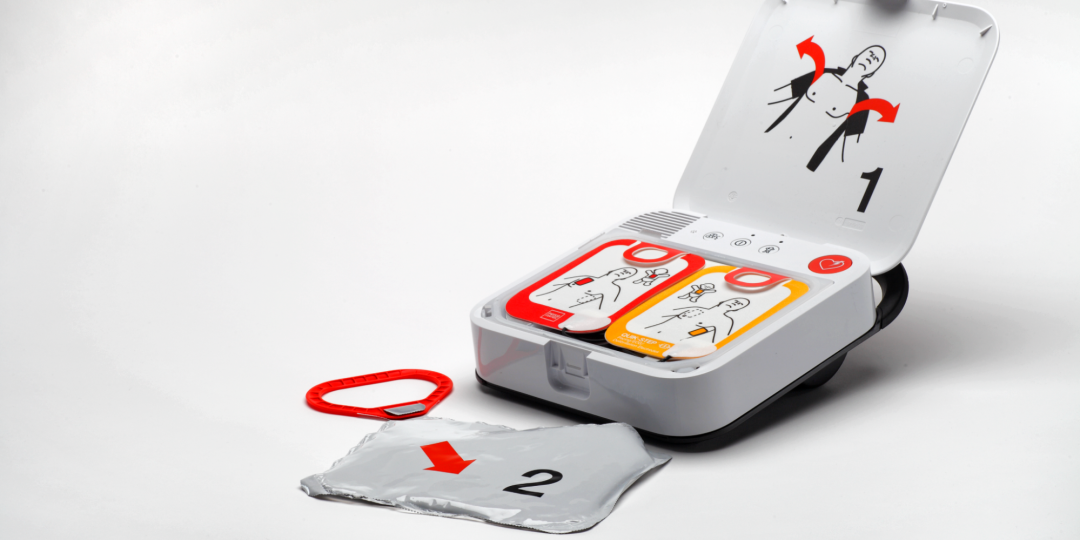 An AED machine, or Automated External Defibrillator, is a valuable piece of medical equipment. A portable device that is always ready for use in an emergency, it delivers electric shocks to stop an irregular heartbeat and allow a victim's heart to return to its normal rhythm. With Sudden cardiac arrest (SCA) being one of the leading causes of death in Singapore, it is important to always be prepared and know exactly what to do in case of an emergency — and this includes having an AED kit in the vicinity that you can use immediately. But is simply having an AED kit in your office or home sufficient?
Imagine this: you are at work, chatting away with your colleagues when you notice that one of your coworkers is suddenly gripping their chest before collapsing to the ground. While another coworker calls for an ambulance, you check for breathing and a pulse — you detect neither. What do you do now? Wait for the paramedics to arrive on the scene? This is where the AED machine, a lifesaving tool, comes in. But what if you retrieve the AED machine and turn on the device only to realise that it is no longer working?
Since having a functioning AED can be the difference between life and death in the event of an SCA, it is crucial to take the steps to ensure that you always have an AED in working condition in your home or workplace. This is because, just like any other safety equipment like a fire extinguisher, they must be inspected regularly and maintained so that it works like it is supposed to. 
How Do You Maintain an AED?
Someone who is trained in using an AED will have to conduct routine inspection and maintenance checks according to the manufacturer's guidelines. However, regardless of the AED defibrillator you have, the process for carrying out maintenance checks is very similar. For one, you will need to ensure that your AED machine is placed in a visible and unobstructed location. From there, you can carry on with the specific fortnightly and monthly checks: 
1. Fortnightly Checks
Once every two weeks, conduct a visual check. This means checking for any damage, missing parts, cracks, or chips on the case, signage, and device. To check if the AED machine is in working condition, you will have to test the status indicator. Depending on the brand and model of the AED machine, a green tick or green blinking light means that it is working.
2. Monthly Checks 
On a monthly basis, check if the battery and electrode pads are not expired. If they are, be sure to replace them. In general, the pads should be replaced every two years and the battery should be replaced every four years. At the same time, you'll need to check on the basic accessories kit. Often going unnoticed, this part of the AED unit is just as important as the main machine. Composed of essentials such as gloves for self-protection, a razor to shave the chest hair to facilitate AED pad placement, a CPR mask, scissors and a small towel, ensure that everything is in order and they do not show any signs of wear and tear.
What If Your AED Machine is Out of Service?
Whether your AED machine is out of service due to usage or the presence of expired parts, you'll need to remove the AED kit from the location and get in touch with your vendor to have it replaced. But while your AED machine is getting replaced, what can you do in the case of an emergency? 
In Singapore, you can use the myResponder app to gain access to the live national registry of publicly accessible AEDs. This will guide you to the nearest location with the next available AED kit.
AED Maintenance Services at HTM Medico
As one of the leading AED suppliers in Singapore, we at HTM Medico do not only have AED defibrillators for sale. Offering AED maintenance services that prolong the life of your AED, our preventive maintenance and service programme guarantees that your AED machine is always ready to use in an emergency. Our AED servicing package includes an annual check-up and the replacement of the batteries and pads. 
But that's not all! If you are looking to buy an AED defibrillator in Singapore, our connected AED options such as the LifePak CR2 defibrillator come with the LIFELINKcentral™ AED Programme Manager which allows you to remotely keep track of your AEDs, maintenance records and expiration dates. This way, you can easily manage the maintenance of your AEDs and ensure that they are always ready for use. 
For more information on when to replace your AED machines, check out our guide on when you should replace your AED kit. Alternatively, read our guide on what to look out for when buying an AED and turn to HTM Medico for high-quality AEDs for sale as well as AED training courses. Feel free to contact us at (65) 6744-5911 or sales@htmmedico.com.sg to learn more about our defibrillator training courses in Singapore and AED machine maintenance services.